Some books stay with you for a life time. They get into your soul, your veins and you cannot get them out.
*Begins to hum Andrew Belle*
For some it's Harry Potter, or The Hunger Games or even Twilight.
For me, it's the Gallagher Girl series by Ally Carter.
Now let me tell you something about these books that force their way into your soul – you can read them more than once. And that's what I did. I re-read the Gallagher Girls.
I think I've actually read I'd Tell  You I'd Love You But I'd Have to Kill You (book 1) about six times now.
Oops.
But I've only read the last book, United We Spy, about twice so it's okay. That's only because it came out in 2013 but that's not the point here.
As I was saying before, I have recently reread the series (yes I should have been revising but it only took two weeks and I'm revising now Brownie Promise (I was in the Brownies I can promise like that)), my love and appreciation for Ally Cater's amazing series has grown by, like, 1000%. Also fear has increased because Cammie (the main character y'all) is no longer older than me. She is actually younger than me in the first three books (i think), so now it's official I am getting older hahahahahahahahahahhahahahaha you can almost hear me repressing every emotion can't you? 


Speaking of getting older and growing up, I have literally grown up with Gallagher Girls in my life. I first found the book when I was eleven, a small year seven in 2008 hanging around the school library, and in that library featured a display, with a cool mannequin wearing what was supposed to be Gallagher Girl uniform and book marks. (I still have mine – see?). So there was little me, enthralled with the Gallagher Academy and Cammie's world, wanting to be a secret spy student with cool friends like Bex and Liz. Oh and I really wanted my school to be an old building like the Academy because my school was built in 1964 and has currently been modernised (excuse me whilst I mourn my old history classroom which was dark and lovely. It's now bright and painted yellow so ew)
Where was I? It's 9.20pm give me a break okay?
Oh yeah, living through Cammie (May I just add if a film is created I will be 95% disappointed and 4% angry if I am not cast as Cammie) (I joke – I will fully support any actress which is blessed with the role) (seriously though I have dark blonde hair and I'm ignored 97% of the time it could work) What's that about being ignored, why is that important? I hear you ask, well reader wouldn't you like to know? Cammi Morgan is a chameleon – not literally, she is a pavement artist. She can trail suspects and there is a high probability that they will not see her.Not even paranoid Mr Smith, who she tails in book one for a CovOpts mission.
Anyway, back to growing up with the series. When I say growing up, I mean every year of secondary school I could look forward to another Gallagher Girls book – until my last year, when the series ended and I finished my secondary school career. So now, every time I think of my years 7-11 at school, hopefully I'll always remember the Gallagher Girls series. I'm still in education (woo go A Levels) obviously, but it's no longer obligatory, I am choosing to be there.
I keep getting distracted. I need to stop. Is this what happens when I hand write this at 9.30pm?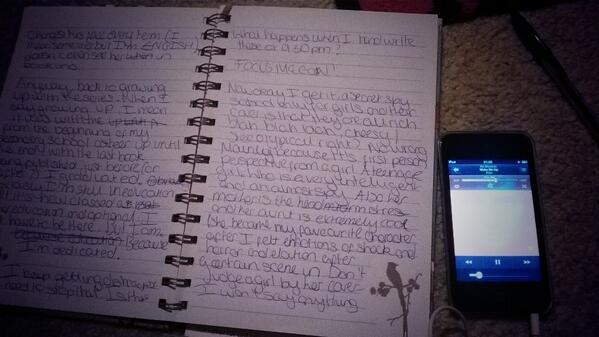 Focus Megan.
Now okay, I get it, a book series about a secret spy school only for girls may sound cheesy and stereotypical blah blah blah. But it's not okay. Mainly because it's first person narrative from a girl. A teenage girl. Who is very intelligent and did I mention goes to a secret spy boarding school? Her mother is also the headmistress of the school and her Aunt Abby is just the coolest. In fact, I think she is my favourite character, especially after a scene in book 3 where something happens that made me feel shock, horror and elation. (I'm obviously not going to say anything because spoilers). I actually love all the characters, even the villainous types. Not once has a character appeared and I've gone "oh not you again  please leave". Now seems like a good time to mention Zach *inhales*. I feel so much emotion towards Zach. Mainly because of the character development. The excellent character development. Zach doesn't arrive until Cross My Heart And Hope To Spy so I'll keep this brief, because spoilers, except I will say the cocky, sarcastic mysterious Blackthorn Boy that arrives is so much more. I think you'll be telling yourself a lie if after reading the series (which you will be doing) you said you didn't want your own Zach. Because I do. Without the deep dark secret and everything else I can't mention because of spoilers.
May I also suggest another reason why this series is excellent- the books get better and better. I can honestly say the first novel is the worst in the series (not that it isn't brilliant and fantastic because it totally is). But do you know how rare it is to say that? Most books start off really great, but by the last book it has gotten so bad that you forget why you wanted to read the series in the first place. It's so sad.
Now if you are still sat (or walking or pacing I don't know you) reading this and thinking 'hey I might read this but I'm not so sure" let me point out something to you: You are spared the agonising year of waiting for the next instalment. You also won't miss the happiness of receiving that parcel of books through the post. You will however feel the sadness when you come to the end. Sorry not sorry.
Even if you still don't think you want to read Gallagher Girls, check out Ally Carter's other series Heist Society (Maybe I'll reread that one and make a blog post about it)
The Gallagher Girls series can be found on amazon and any excellent bookstore.